 Getting vaccinated could get you free Padres tickets.  San Diego County is partnering with the Padres and any person who gets vaccinated between today and June 30 will be entered into a drawing with the possibility to win one of 100 pairs of Padres tickets. On June 12 from 11 a.m. to 6 p.m. and June 26 from noon to 4 p.m., the county and the Padres will hold a vaccination event at Gallagher Square outside Petco Park, where the first 1,000 people to get a shot on both days will receive commemorative T-shirts. Today is Virtual Red Shoe Day as part of the Ronald McDonald House charity. If you want to support the Ronald McDonald House charities, make a donation today you donations will be doubled meaning they will be matched dollar for dollar. Donations received will help families access free services like lodging, meals, and emotional support as they care for their hospitalized child. You can donate AT REDSHOEDAYSD DOT COM OR TEXT "REDSHOE" TO 243725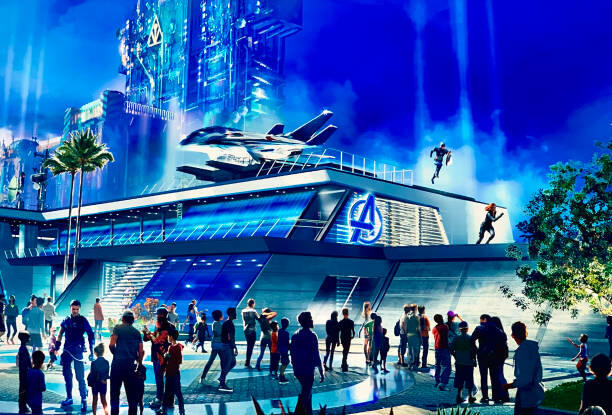 (photo credit: Getty Images)
Avengers Campus opens tomorrow at Disney California Adventure! They have lots of food there at the Pym Test Kitchen where food comes in all sizes for everyone.  The restaurant deploys the the famous "Pym Particles" from Ant-Man and The Wasp to grow and shrink dishes. So think anything from massive Quantum Pretzels, Impossible large and micro meatballs served with a super sized spoon and tiny fork, and more.   The restaurant also offers eight craft beers in the Pym Tasting lab where you'll get your drink in an oversized beer can. Make sure you pay attention to the lab's reverse draft system that fills beers from the bottom up.
California is set to fully reopen in less than two weeks however even vaccinated workers may have to keep masks on while working.   Now the CDC says that fully vaccinated people don't have to wear masks in pretty much all situations.  However The California Occupational Safety and Health Standards Board meets today and they are proposing new workplace rules that would only allow workers to go maskless if everyone in a room is fully vaccinated.  This has people upset!!  The president of the California Chamber of Commerce said, "Under these (proposed Cal/OSHA) rules, workers' freedoms will be controlled by their fellow workers decisions to get vaccinated, not by their own choices."
Costco is bringing back samples this week!!! About 170 Costco stores are bringing back the full sampling experience but by the end of the month, samples should be back in full swing in all their stores. Sam's Club also announced that they will be bringing back samples also. However, there will be changes to the sampling protocol. Stores will make smaller sample batches "for better safety control," prepare them behind plexiglass, and distribute them one at a time.  Sam's Club, is experimenting with different approaches, including "roaming events that bring sampling directly to members as they check out, or when they are using Sam's Club Curbside Pickup."
Investigators gave an update yesterday on the search for the missing mother from Chula Vista Maya Millette. Police say they havenow interviewed 61 people, written 42 search warrants and investigated 85 tips in connection with her disappearance. They also said they are working with the FBI, the DA's office, and the Naval Criminal Investigative Service. Maya has been missing since January 7th and family members, police, and volunteers, have spent hours and hours searching for her.