 The Texas Mask Mandate was the #1 trending thing overnight yesterday after Texas became the largest stage to lift its mask mandate and open for business "100 percent." The governor of Texas announced yesterday that he's lifting all coronavirus restrictions. All businesses will be allowed to operate at 100 percent capacity, and the mask mandate will be lifted entirely. The governor of Mississippi made a similar announcement yesterday and the governors of Michigan, and Louisiana and the mayor of San Francisco all eased restrictions on bars, restaurants and other businesses. 
As for here in San Diego, we are staying in the purple tier for at least another week. The announcement was made yesterday and we didn't make the cut. Meanwhile, the new Johnson & Johnson COVID-19 vaccine has been approved by the FDA and is expected to arrive in San Diego County as early as this week. It will be the first single-dose vaccine available in the U.S. They haven't announced exactly when the vaccines will arrive and where it will be distributed. By the way, President Biden said that the U.S. should have enough coronavirus vaccines for all adults by the end of May.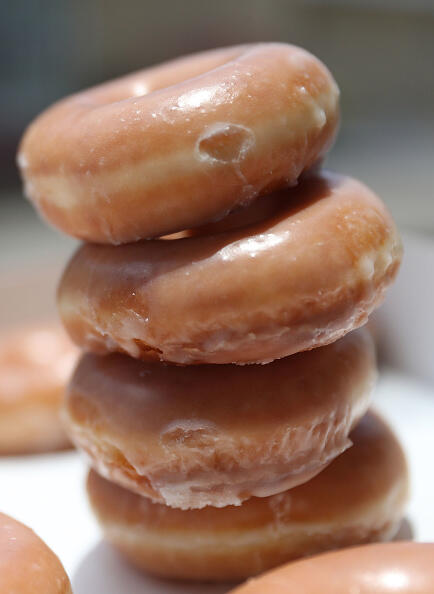 (photo credit: Getty Images)
Krispy Kreme Is Giving Out Free Dozens Of Original Glazed Donuts! It's a buy a dozen get a dozen for free and there's no catch! Just use the promo code BOGODOZEN on your takeout, drive-thru, or delivery orders! You have until March 7 to get this deal!
Instagram Live introduced a new feature earlier this week that will allow users to run joint livestreams with three other people. It's called Live Rooms, and the feature increases the number of accounts that can join an Instagram Live from two to four. It's "kind of like Zoom, but publicly viewable and restricted to four participants." A few things to note: anyone who has been blocked by one of the participants in a Live won't be able to join it, and if you've been banned from Live for violating Community Guidelines you also can't join any Live Room at all. Hosts will also be able to report and block comments as well as apply comment filters. 
Over a year ago, Zoom was something most of us had never even heard of. However now it's pretty much become essential for everyone for work, happy hours, dates, and mores. However using Zoom means seeing your face close-up a lot, and that's apparently leading some men to start wearing makeup when using zoom to cover up flaws. Sales of cosmetics for men is having a surge in sales, and men searches on Google for "men's makeup looks" spiked by almost 80 percent last year.  There is also a surge in products for eyebrow and beard fix.