 San Diego Padres star Fernando Tatis Jr has agreed to a $340 million dollar, 14 year deal with the Padres.   It will be the longest contract signed in MLB history. He is 22 years old which means he will be here until he's 35.  Tatis stands out because of his flair, easy smile, the blond dreadlocks flowing from under his cap, a uniform dirtied by his hard-charging play and his dance moves in the dugout after hitting home runs. The Padres gave Manny Machado a $300 million, 10-year deal before the 2019 season.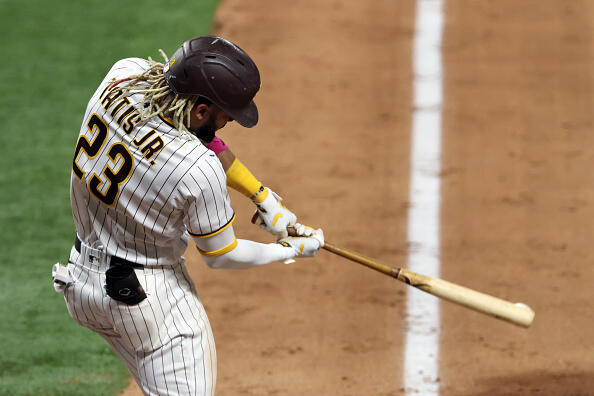 (photo credit: Getty Images)
It's a big day today on Mars! If everything goes according to plan, a NASA rover is going to land on Mars today at around 1pm our time. The rovers name is Perseverance. However, landing on Mars is risky though. Only half of all previous Mars landing attempts have succeeded. The last time it was done was back in 2012. And in honor of it Krispy Kreme is debuting a limited edition doughnut for the landing today. The limited edition doughnut, which is red like Mars, isonly be available today. It is a caramel-dipped and chocolate cream-filled doughnut topped with a swirl that resembles Mars, sprinkled with chocolate cookie crumbs for Mars dust.
If you submitted your name during NASA's "Send Your Name to Mars" campaign, which put almost 11 million names on the Perseverance rover before it blasted off, you can bring your "boarding pass" to Krispy Kreme and get the Mars Doughnut for free.
Speaking of food, cheeseburgers at McDonald's are 25 cents in honor of Throwback Thursday when you order in the McDonald's app with a $1 minimum purchase. Also if you want to taste their new Crispy Chicken Sandwich before it comes out today at 9am go to chkndrop.com and for $5 dollars you get to taste the sandwich, a day before it drops nationwide. You'll also get a Cripy Chicken Sandwich hoody and a 7″ vinyl recording that will be used in advertising for the sandwich. There will be three versions of the crispy chicken sandwich, including a Crispy Chicken Sandwich topped with pickles and served on a potato roll, a Spicy Chicken Sandwich that adds a spicy pepper sauce, and a Deluxe Chicken Sandwich that comes with lettuce, tomatoes, and mayonnaise.
The Rock 'n' Roll San Diego marathon has been officially postponed due to the pandemic.  It was set to take place June 5-6th.   They haven't released a new date, but organizers say a fall date is what they are looking at.  This is now two years in a row it had to be cancelled.
A San Diego music teacher is among the county's teachers of the year. Paula Richardson is one of five teachers given the highest honor by the County Office of Education for the 2020-2021 school year. She is a music teacher at Wilson Middle School and she was recognized for championing the challenge of virtual learning. She did not let the pandemic silence her sound. Like most teachers, she's had to adapt and overcome teaching in a virtual world.  She's self-proclaimed "Positive Paula" and it's easy to see why. In November, heavy rain flooded her classroom and destroyed 40 of her most expensive woodwind instruments. Richardson says the school's insurance does not cover the instruments that were ruined. If you would like to make a donation to Wilson Middle School you can contact them directly at 619-362-3400