 Governor Newsom says COVID-19 tier changes could come next week. Most of California's 58 counties remain in the most restrictive purple tier. However the weekly number of people testing positive for COVID-19 is dropping dramatically. "3.5%, 7 day positivity rate. We were at 11.4% a month ago. So if this trend continues, most California counties should be out of the purple tier by this time next month. The county's rate of new cases dropped enough to allow elementary schools to resume in-person instruction for students in pre-kindergarten through sixth grade. However, two of the county's largest school districts — the San Diego Unified School District and Chula Vista Elementary School District — will likely remain closed to in-person learning for the forseeable future. San Diego Unified plans for a fall full reopening and Chula Vista will consider once in the red tier.
However, Grossmont Union students are set to return to classes in-person next month in blended model. Campuses will operate at up to 50% capacity for in-person instruction beginning March 1. The blended model allows students to attend in-person classes twice a week and do distance learning for the other three days.  Students also have the option to continue full-time distance learning. A move from the purple to red tier gives counties the opportunity to have restaurants open indoors at 25% capacity. Additionally in the tier:

Retail shops and malls can increase indoor capacity to 50%;
Museums, zoos, and aquariums can open indoors at 25% capacity;
Gyms and fitness centers can open indoors at 10% capacity; and
Movie theaters can open indoors at 25% capacity.
For the first time in NOAA history (National Oceanic and Atmospheric Administration), more than 73 percent of the United States is covered with snow! Yes there is wild weather in the rest of the country right now. More than 3 million people in Texas are without power right now. 23 people have died.  
A Mysterious shaking was reported all over San Diego County last night. Several area residents reported observing what they say felt like an earthquake around 5 p.m. "It was weird the ground didn't move like an earthquake but my windows did," one resident said on Facebook. However, The United States Geological Survey didn't report any activity in the area Tuesday. "There was no earthquake recorded in San Diego today, but it may have been a sonic boom which are not too uncommon there," the agency reported.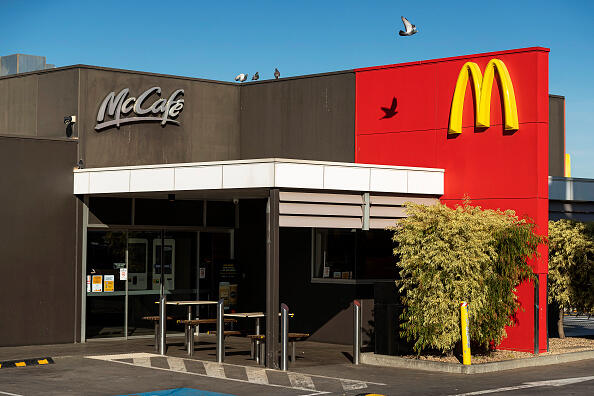 (photo credit: Getty Images)
McDonald's is Giving Fans a Chance to Try their New Chicken Sandwich Early! For $5, McDonald's will give you access to their limited-edition capsule to try their new chicken sandwich on February 23rd, before everyone else. Go to CHICKNdrop.com at 9am our time on February 18 to try to get access to your capsule while you can. However the chicken sandwich will be released the following Day February 19th.
TODAY IS: Ash Wednesday: which is the first day of Lent. Lent is typically a time when people give up something. But most of us feel it began last March and never ended. So rather than 'giving something up' this year, since many people have given up health, financial security, and seeing friends and family, how about a new Lenten practice?" Father Martin's accompanying video suggests simply being kind, and offers three ways to do it:

1.    Don't be a jerk
2.    Honor the absent -- basically, don't talk about people behind their back
3.    Always give people the benefit of the doubt
Speaking of this pandemic, a list came out of The Top Things We'll Never Do Again After the Pandemic. Here are the top 10 answers . . .

1. Sharing ChapStick.
2. Taking a bite of someone else's sandwich.
3. Trying out make-up samples at a store.
4. Making out with strangers at a bar.
5. Borrowing someone else's bathing suit.  (???)
6. Using a friend's make-up.
7. Standing really close to people in line.
8. Leaving the house without hand sanitizer.
9. Sharing bags of chips or other snacks with someone you don't live with.
10. Using someone else's deodorant. 

A few more that made the top 25 are going to buffet restaurants . . . holding the handrail on escalators . . . and shaking hands.