 There is now a national Facebook group dedicated to looking for the missing Chula Vista mom Maya "May" Millete. She hasn't been seen since January 7th. The Facebook group "Missing Maya Millete Discussion & Theories" operates similarly to a neighborhood watch, spanning the nation and has nearly 4,000 members. The group is meant to provide a safe place for the family to look for support and discuss any kind of plausible theory as to where May could be," with the ultimate, mission to help any way we possible can to help bring Maya home." Anyone with information about the case is asked to contact the Chula Vista Police Department at 619-691-5139 or San Diego Crime Stoppers anonymous tip line at 888-580-8477.
San Diego County public health officials reported 698 new Covid-19 cases, which is the fewest daily covid infections in 2 months, since November 13th.   There were no new deaths. Meanwhile, UCSD Health opened a vaccination superstation yesterday which is now the fifth one in the county. Yesterday Governor Newsom toured the vaccination super station at Petco Park and congratulated San Diego on our work administering doses. He said he chose to highlight San Diego because of the leadership that the city and county have shown with mass vaccinations. Petco Park was the state's first-of-its-kind mass vaccination site. The governor said he had "deep respect and deep admiration" for county leadership saying San Diego County is "leading this state, per capita, in the administration and distribution of this vaccine."
 A Deal to reopen California schools could be reached as soon as this week!  The governor   says his administration and the legislature are close to making a deal on when and how to reopen schools in California.  He said, "It is my desire to get our schools safely open as quickly as we can."  He also says the state is prioritizing teachers in upcoming Phase 1b vaccinations.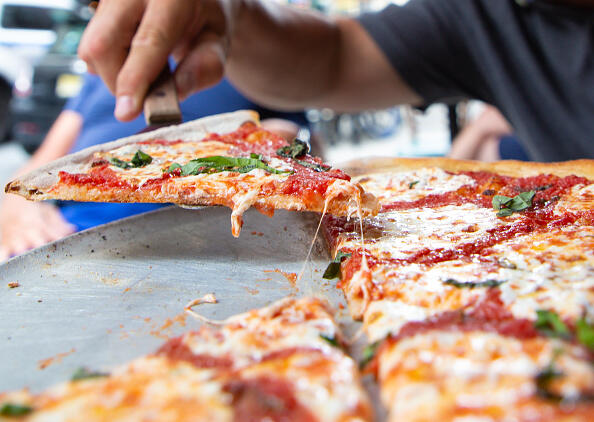 (photo credit: Getty Images)
TODAY IS National Pizza Day! According to data, the top searched pizza place in almost every state was either Domino's or Pizza Hut.  California and New York were the only states where "vegan pizza" was among the top pizza- searches. And in honor of National Pizza day, Lots of national chains are doing special deals to celebrate. 
BJ's Restaurants & Brewhouse:For a limited time only, get half-off large pizzas at BJ's when ordering on the restaurant's website or app with promo code HALFOFF.
Chuck E. Cheese: Get a free medium one-topping pizza with the purchase of a large one-topping for dine-in and carry-out Tuesday. The chain also will have free delivery through DoorDash.
Domino's: With the mix and match special, choose two menu items for $5.99 each. Items include medium two-topping pizzas, Specialty Chicken, eight-piece chicken wings or boneless wings, Stuffed Cheesy Breads, bread twists, sandwiches, pastas, salads or Marbled Cookie Brownie.
Einstein Bros. Bagels: From Tuesday through Feb. 14, get a Family Pizza Bagel Box for $5, 50% off the regular price. The box has eight bagel halves with four classic cheese and four pepperoni pizza bagels. The deal is available for ordering ahead on the chain's app.
Little Caesars: Get free delivery Tuesday on orders $10 or more placed on the chain's website or with the app.
Papa John's: For a limited time, get the one-topping Epic Stuffed Crust Pizza for $12.
Pieology: The pizza chain holds an Instagram Live event Tuesday 3 p.m. ET and the company says it "will gift those who attend with a 10% offer to use one time until the end of February."
Pizza Hut: The chain's new Detroit-Style Pizza, available nationwide for a limited time, starts at $10.99 but prices vary by location.
Red Baron Pizza: The frozen pizza brand is giving out free pizzas to 55 families in honor of the 55th Super Bowl and National Pizza Day. Through Feb. 12, enter to win by following Red Baron Pizza on Instagram and tag a friend in the comments of the offer.
Round Table Pizza: App users get a free Stuffed Crust upgrade Tuesday. 
Sbarro: Current members of thechain's Slice Society loyalty program get a coupon for a free NY XL slice with the purchase of any beverage Tuesday. For joining at www.sbarro.com, new members also get a coupon for a free NY XL slice with a beverage purchase.
California Pizza Kitchen: Get a free small plate for signing up for CPK Rewards at www.cpk.com. 
Domino's: Earn points toward a free pizza with the Piece of the Pie Rewards program at www.dominos.com/rewards.
Papa John's: With Papa Rewards, earn points toward free pizza, desserts and more. Sign up at www.papajohns.com/papa-rewards.
Pieology: Join Pieology's Pie Life rewards program at www.pieology.com. 
Pizza Hut: Sign up for Hut Rewards to earn free pizza at www.pizzahut.com.
Round Table Pizza: Sign up for offers at www.roundtablepizza.com.
Sbarro: Join The Slice Society and get a coupon for a free NY XL slice with the purchase of a beverage. Sign up at www.sbarro.com.