 Public-health officials reported 1,434 new COVID-19 cases and 46 deaths from Covid-19 yesterday making it the 57th consecutive day with more than 1000 new cases. This comes just as we spent our first full day in more than six weeks free of the state-imposed stay-at-home order. Meanwhile, the vaccine shut down at Petco Park was shut down yesterday for the 2nd day. Not sure why, but people say they got emails late the night before around 8pm telling them their appointment had got rescheduled for Saturday.  They say the site was closed last minute for repairs. It was closed Monday due to inclement weather.
Based on the state's action on Monday, San Diego County officials reopened, in an outdoor capacity, restaurant dining, gyms, places of worship, museums, zoos and aquariums, camping and outdoor recreation, bars, breweries and distilleries if they serve food, low-contact youth sports such as cross- country, swimming and diving, golf and track and field, family entertainment centers and movie theaters. Personal-care services such as barbershops, hair and nail salons and tattoo shops once again can operate indoors, grocery stores can operate at 50% capacity and retail at 25%, and live sports can continue as long as fans aren't in attendance. Amusement parks will remain closed.
The Biggest Pet Peeve in All 50 States
1. Slow internet is #1 overall. It was the biggest pet peeve in 15 states.  (Arizona, California, Colorado, Idaho, Indiana, Iowa, Maine, Minnesota, Missouri, New Mexico, Oregon, Utah, Vermont, Washington, and Wisconsin.)
2. Burping, 11 states.  (Alabama, Kansas, Massachusetts, New Jersey, New York, Ohio, Oklahoma, Rhode Island, South Carolina, South Dakota, and Tennessee.)
3. When someone else's kids won't behave, seven states.  (Florida, Georgia, Illinois, Michigan, North Carolina, Texas, and Virginia.)
4. Bragging, five states.  (Connecticut, Louisiana, Mississippi, Montana, and North Dakota.)
5. Littering, four states.  (Arkansas, Kentucky, Pennsylvania, and West Virginia.)
6. Public displays of affection, three states.  (Hawaii, Nevada, and New Hampshire.)
7. Five pet peeves got one state each: In Nebraska, it's laziness . . . Alaska, nail-biting . . . Wyoming, passive-aggressive behavior . . . Maryland, being too pessimistic . . . and the only state where TRAFFIC is the top pet peeve is Delaware.  (Here's a map of all 50 states' pet peeves.)
According to a new research, all those hours spent in front of video calls i.e. zoom, Microsoft teams etc is causing a rise in people to get cosmetic procedures even though we are in the middle of a pandemic. They actually have a term for this. It's called Zoom Dysmorphia. 50% of doctors surveyed saw a rise in cosmetic consultations during the pandemic. 86% of those doctors in the survey said their patients referenced video conferencing as the reason for their cosmetic concern. However doctors do want to remind people the images people see of themselves are often distorted and not a true reflection of what they really look like.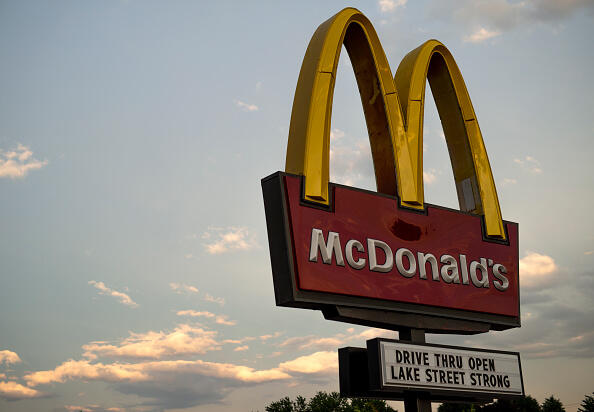 (photo credit: Getty Images)
McDonald's is bringing back their Spicy Chicken McNuggets starting Feb. 1.The nuggets first appeared on the menu back in September but are making a return for a limited time only. You can also order their mighty hot sauce. And if you're a fan of free stuff, McDonald's is giving away a 6-piece Spicy Chicken McNuggets if you order $20 or more through McDelivery with Door Dash using the code SPICY between Feb. 2 - 6.
The Postal service is releasing a new series of 'Star Wars'-themed stamps!  The stamps feature 10 droids from Star Wars franchise, including IG-11, R2-D2, K-2SO, D-O, L3-37, BB-8, C-3PO, a GNK power droid, 2-1B surgical droid and C1-10P (also known as 'Chopper'). The droids are posed in front of a handful of iconic backgrounds from the films and tv series. The issue date will be announced later this year.
Tyson is offering heart shaped chicken nuggets for Valentine's Day. And starting February 1st you can enter their Chicken Nugget Bouquet Contest. All you have to do is create your best chicken nugget bouquet, then share a photo and tag them @TysonBrand on Instagram or Twitter along with the hashtags #NuggetBouquetContest and #TysonNuggetsofLove through February 17th. One winner will receive $5,000 for a staycation and a year's supply of chicken nuggets, while an additional 150 winners will each receive one bag of limited-edition Tyson Nuggets of Love, which are heart-shaped chicken nuggets. The entries will be judged based on creativity, presentation, expression of chicken nugget love, originality, and overall tie to a Valentine's Day theme.