Everyone on the show gave their honest reviews of Frankie's stand-up, however, Producer Chris definitely had a few choice words!
A listener has a strong feeling that her fiancé might have dated men in the past after an awkward dinner encounter with one of his friends from the past on Love Em or Leave Em?
Plus! Do you need help with your Thanksgiving turkey? We called in Chef Claudia Sandoval to offer some helpful tips for your holiday dinner! Governor Newsom and his family are currently quarantining for two weeks after one of the family's security guards tested positive for COVID-19. The governor shared the news last night on Twitter.  The entire family tested negative Sunday but Newsom said they will still quarantine for 14 days. Meanwhile the city of Los Angles announced yesterday that they are stopping indoor AND outdoor dining at restaurants, breweries, wineries and bars starting Wednesday at 10pm due to a surge in coronavirus cases. So now you can only get take out, drive thru, or delivery. This order will stay in effect for the next three weeks. Meanwhile, our limited but but mandatory stay-at-home order and overnight effect went into effect Saturday. Non-essential work, movement and gatherings are prohibited between the hours of 10 p.m. to 5 a.m. daily. The order will last a month and is set to expire at 5 a.m. on Dec. 21, but it could be extended as needed.
With Covid-19 cases surging lots of people are talking about a potential second shutdown so people are naturally stocking up on certain producers. They came out with a list of stuff you may need to buy before a second shutdown, however they do say don't go overboard on any f it. 
Paper products like TP, paper towels, and tissues . . . hand soap and sanitizer . . . thermometers . . . face masks . . . and canned goods. Just don't go overboard on any of it.
 Toilet paper. But only one or two more packs than usual, if that. People hoarding TP is what CAUSES the "shortages" . . . so don't go crazy.
Paper towels. Just like toilet paper, the supply chain is pretty stable when people aren't hoarding it. Maybe pick up one extra pack just to be on the safe side.
Tissues. One to two boxes per person in your house.
Disinfecting wipes and spray. Depending on how frequently you go through them, it's not a bad idea to have an extra bottle or two.
Hand soap and sanitizer. You should have enough soap for each sink in your house, plus an extra bottle for the most frequently-used sink. And each person in your home should have their own bottle of hand sanitizer to take wherever they go.
Thermometers. Every household should have at least one. 
Face masks. Depending on how often you leave the house, every person in your house should have three to seven reusable face masks.
Canned goods. Don't buy more than you actually plan to use. It's HIGHLY unlikely that you'll ever need a stash that lasts you more than a couple weeks. 
If you are cooking a turkey for the first time this Thanksgiving don't worry, Butterball has you covered! Butterball has a turkey talk line -- 1-800-BUTTERBALL (288-8372) -- where you can get answers to all your turkey cooking questions. "People are asking what size [turkey] should I purchase, and should I buy fresh or frozen." So, what size should you buy? "Two pounds per person," Johnson said. "And that's encouraging a lot of leftovers."
Disney Will Stop Attractions If A Guest Removes Their Mask. Disney is doing whatever they can to ensure guests stay properly masked when visiting their parks.

They have implemented a strict rule stating guests must remain masked at all times. If a mask comes off, they will stop attractions. 
Disney means business, too: there has already been word of this happening during a live show when someone watching took their mask off. 
Disney World has specific rules on what kind of masks they will and won't allow on their website. 
Walmart Is Selling Starbucks Cup Ornaments That Are Filled With Hot Chocolate

Walmart has the perfect accessory for your 2020 Christmas tree.

The store is selling little Starbucks cup ornaments. And inside, they either have double chocolate hot cocoa mix or peppermint hot cocoa mix. 
The gift comes in a pack of six and retails for $14.98.

Would you give these as gifts or keep them for yourself?
Despite warnings from the CDC and other officials, Americans flocked to airports over the weekend for Thanksgiving week travel. According to the TSA, more than 3 million people went through airport security between Friday and Sunday. Now even though that's nowhere near as busy as Thanksgiving weekend usually is, it was the biggest air travel weekend since March. Speaking of Thanksgiving, if you were planning on shopping on Thursday, a bunch of stores

That are usually open on Thanksgiving, will stay closed this year, partially as a thank you to their employees. Walmart, Target, Best Buy and Macy's all will be closed. Costco, Home Depot, Nordstrom, and Trader Joe's will all be closed too.
There's a new holiday trend going on this year. Gingerbread houses are out and Charcuterie houses are in! The newest holiday trend is people making charcuterie houses, or charcuterie chalets. They're exactly what you might imagine—people arranging charcuterie board ingredients into the shape of a house and serving them that way. To make your charcuterie chalet, make sure you get some breadsticks and crackers for good bases,

a soft cheese might serve as a good glue—and then make walls, doors, and whatever other details with salami, bacon, or whatever you prefer. Some people also accessorize with vegetables or nuts. Cardi B Makes History At The AMAs. She Became The First Artist In History To Win Favorite Song In the Rap/Hip Hop Category At The AMAs Twice!
Check Out Her Acceptance Speech!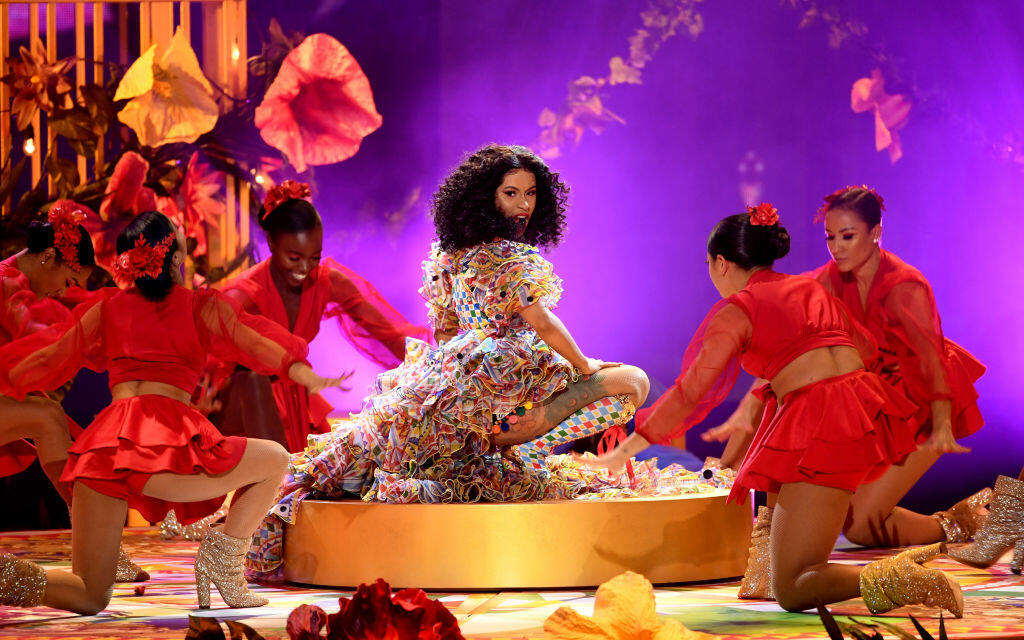 Photo Credit: Getty Images