We brought in our first Channel 933 personality, Ethan Cole, to vote if we should put up or Christmas decorations now or wait till after Thanksgiving.
The show got into a heated debate about if you should throw your away food in the trash can or in the garbage disposal
Plus, a listener's ex-boyfriend embarrassed her on social media so she decided to return the favor by including his family on Crazy Girl Confessions. If you are flying out of San Diego this Thanksgiving here is what you need to know. The San Diego International Airport is preparing for an influx of Thanksgiving travelers even though it will still be a lot less than normal years. Thanksgiving is usually one of the busiest travel weeks of the year however right now, they are down about 67% in travel in comparison to last year at this time.
They have implemented a number of health and safety policies. They include:

Masks are required to be worn on airport property. Face coverings are available to travelers at airport information desks and in vending machines in the terminals;
Travelers are encouraged to wash their hands frequently, avoid touching their eyes, nose and mouth, maintain social distancing and conduct a temperature check prior to arriving;
Airport officials have requested travelers give themselves "preferably two hours" to get through security line to their gate;
Rental car buses are running at a reduced capacity due to social distancing rules;
Parking is temporarily closed at the Cell Phone Lot, Long Term Lot and Curbside Valet Terminal 1 and 2. Open lots include the Terminal 1 Parking Lot, the Terminal 2 Parking Lot on McCain Road and the Terminal 2 Parking Plaza.
Speaking of thanksgiving, the new trends this year is smaller portions and pre-orders of both turkeys and prepared meals. They say lots of people are ordering smaller turkeys due to having smaller gatherings. There are a few items that have low inventory, spices, flour, and rice.  Usually the busiest day in grocery stores is Tuesday and Wednesday of next week but this year it's projected to be earlier – on Saturday and Sunday.  Meanwhile, Google maps can now tell you the best and least-crowded times to head to the grocery store. According to google maps, grocery stores are least-busy on Mondays at 8 a.m., and most busy on Saturdays from 12 p.m. to 3 p.m.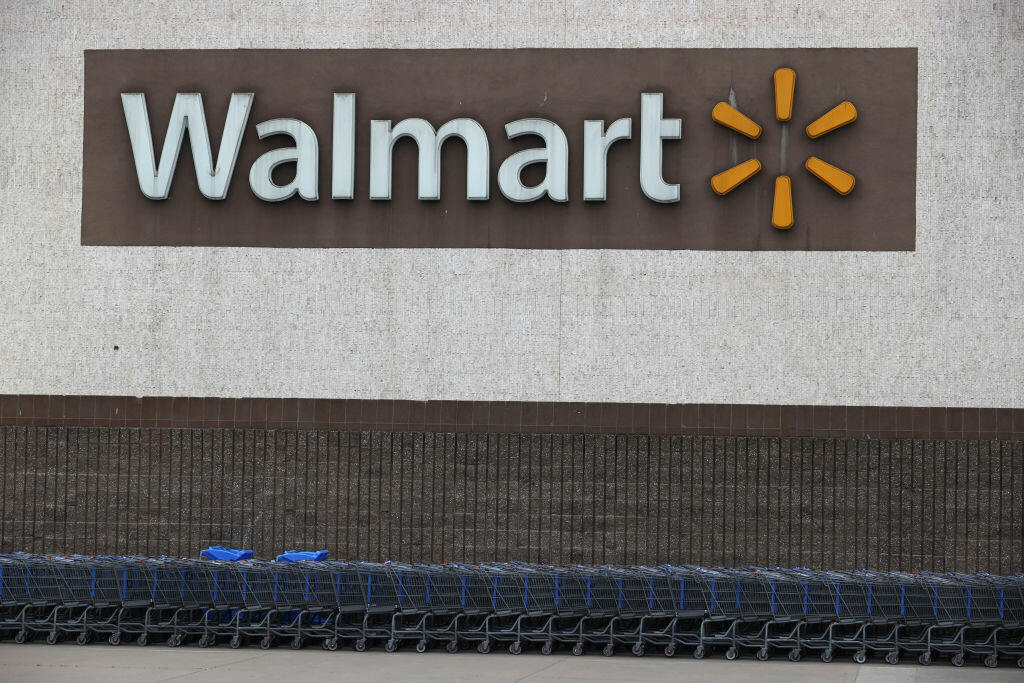 Photo Credit: Getty Images
Walmart has launched a Christmas tree delivery program and even a Christmas lights installation service this year. They'll also drop off things like wreaths and poinsettias. Installation on single-story homes costs $129, while for a double-story it's $199. However, those prices only include labor and not the actual Christmas lights, extension cords, or clips. And if you want them to remove your lights you can pay for that too. It'll cost you $99 for a one-story home and $159 for a two-story home. You can order both services on Walmart's website. Last month, Lowe's also launched a holiday tree delivery plan.
You Can Get A Free Thanksgiving Dinner From Walmart. Walmart has a way for you to score a free Thanksgiving dinner.  They've teamed up with several brands that sell typical Thanksgiving dinner items. Nine in total.  All you have to do is buy those specific products and then go through the Ibotta rebate app to scan the receipt proving you brought the items, and they will give users the refund for the meal. That's it! Of course, there is a limited selection.
Former San Diego State guard Malachi Flynn got drafted in the first round yesterday of the NBA draft. He went to the Toronto Raptors #29 overall. He played his junior season with the Aztecs and becomes the third player in SDSU history to be drafted in the NBA's first round, and the first since Kawhi Leonard was picked 15th overall in 2011 by the Indiana Pacers.
The holidays will be a lot quieter this year if you follow the latest guidelines suggested by the U.S. Centers for Disease Control and Prevention (CDC). Published yesterday (November 18th), the organization says to minimize the spread of COVID-19, people should avoid singing or shouting (especially indoors), avoid close contact with others from outside one's household (you still should be socially distancing, keeping six feet apart), and avoid drinking alcohol. The CDC also warns against drinking as, "Using alcohol or drugs that may alter judgement [could] make it more difficult to practice COVID-19 safety measures." And if you can't avoid having a holiday gathering, the organization recommends wearing face masks and having hand sanitizers or hand washing stations available for guests. Quarantining for 14 days before and/or after the event has also been suggested to minimize exposing others to the virus.