What's Cardi B's Net Worth?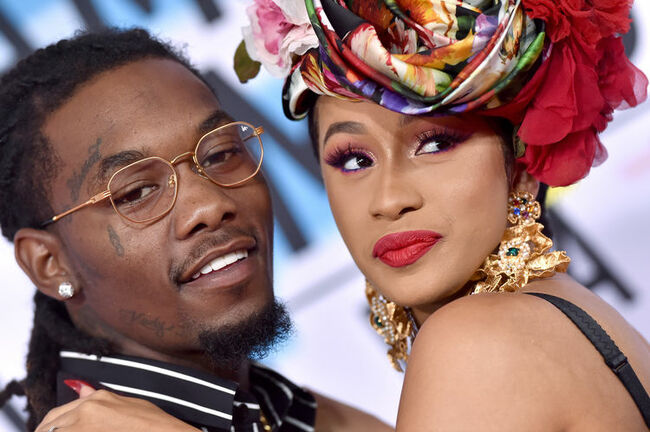 Cardi B started her career on VH1's "Love and Hip-Hop" in 2015.
Her song "Bodak Yellow (Money Moves)" took her to the top of the Billboard chart
Cardi B's net worth is around $8 million thanks to her endorsement deals.
Cardi B was listed with a net worth of $400,000 in January of 2016. Her net worth increased to $1.5 million on February 9th, 2017 and has steadily increased from then on. Today, her net worth is estimated around 8 million.
Cardi B's relationship with Migos' Offset
Cardi and Offset (of the Migos) dated around early 2017. Cardi and Offset became engaged on October 27, 2017, after he proposed to her during a Power 99 Powerhouse concert. She became pregnant and revealed the news on Saturday Night Live on June 25, 2017. Cardi B They had a secret bedroom marriage in September 2017 which was revealed by TMZ when hey dug up the marriage license. She later confirmed the marriage on social media.
Just days after hitting the stage together at KIIS FM's 2018 Jingle Ball, presented by Capital One, Offset and Cardi B have broken up.
Cardi B and Offset share a baby daughter together, Kulture Kiari Cephus who was born on July 10th, 2018.
Cardi B's life BEFORE Bodak Yellow
Rapper, songwriter, Belcalis Marlenis Almánzar AKA Cardi B, short for Bacardi (the rum), was born on October 11, 1992 (age 26) in South Bronx, New York. She has recorded songs with Bruno Mars, Migos, Ozuna, Josh X, J Balvin and more. At 19, she worked at a supermarket before she got fired and turned to stripping and later became famous for her Vine and Instagram videos. She was later cast on VH1 reality television series Love & Hip Hop: New York from 2015 - 2017. During this time, she released 2 mixtapes - Gangsta Bitch Music, Vol. 1 and Vol. 2.
Cardi B's Rap Career
Her single Bodak Yellow made her the 2nd female rapper, after Lauryn Hill in 1998, to ever top the Billboard chart. When she was featured on Maroon 5's Girls Like You, she became the first female rapper to have multiple #1 songs on the Billboard chart. To date, she's gotten 2 Grammy Award nominations, 3 American Music Awards, 3 MTV Music Awards, 9 BET Hip Hop Awards, and 1 Billboard Music Award for her album Invasion of Privacy.
During several interviews, Cardi B noted that she was influenced musically by Missy Elliott and Tweet. She also loved "fighting songs" or aggressive forms of rap music from artists such as Khia, Lil Kim, Fox Brown, and Trina.
Cardi B's Beef with Nicky Minaj
Speaking of fighting, she also has beef with Nicki Minaj. During a Harper's Bazaar after-party during New York Fashion Week back in September of 2018, Cardi threw one of her shoes at Nicki. Supposedly, the beef between them started when Cardi would notice Nicki "liking" comments on social media by fans who would talk negatively towards Cardi. Nicky, of course, denied the accusations, but Cardi wasn't buying it.
Photo: Getty Images