 A judge denied a request yesterday from restaurants and gyms to resume indoor operations. A group of local restaurants and gyms had filed a lawsuit against the state and county to allow them to open indoors at 25% which would be the same as what is allowed at retail businesses. They argued that restaurants and gyms accounted for a small percentage of overall COVID-19 cases, but yet they have been penalized. They also said that because people are now gathering at private households which is causing the virus to spread more. However, they got denied.
The Petco Park vaccine super station reopened yesterday after being closed for four days however there were hours of traffic due to the lightning! They had to stop administering shots around 12:15pm due to "safety concerns related to nearby lightning." They did resume in about an hour however the damage was already done. Some people waited as long as three to five hours to get their shot. And the line was still was about half a mile long at 6pm.
Governor Newsom said California is close to finagling plans that would allow fans into ballparks in time for opening day in April. He spoke at a press conference yesterday where he said he is working closely with the league to ensure a safe plan ready to go before April 1st.  He said,  'We have confidence' MLB fans will be in stands for opening day. If fans are allowed things will be a little different. There will be capacity limits, physical distancing between fans and groups, mandatory face coverings, and increased hygiene. Think contactless entry and payments, socially distance pods of seats, mobile concessions ordering and pickup, and plexiglass in areas near players.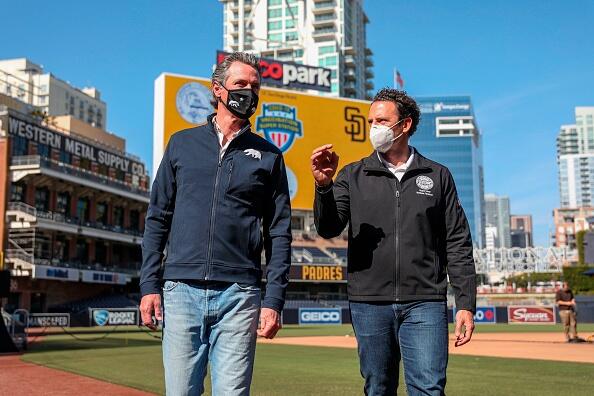 (photo credit: Getty Images)
 Several great apes at the San Diego Zoo have received doses of a COVID-19 vaccine made strictly for animals. Four orangutans and five bonobos are now vaccinated against SARS-CoV-2. So far they have shown no signs of reactions to the vaccine. By the way, the gorilla troop who caught Covid at the Safari Park about a month ago have all recovered well.
Do you want to go on a trip around the moon? Well now you can! A Billionaire is looking for Eight People to Go with Him on a "Fun Trip" Around the Moon and applications Are Due Next Week! This Japanese billionaire bought the rights to SpaceX's first flight to the moon, in 2023. And now he's looking for eight people to go with him. We don't know exactly how much he paid for the trip but it's estimated to be around $250 million. He says he's looking for two main things in the people he chooses: People who want to "push the envelope" to make a better society, and people who are willing to support others. On the website he says, "It will take three days to get to the moon, loop behind it, and three days to get back. I will pay for the entire journey . . . I hope that together we can make it a fun trip." If you're interested, you can apply on his website DearMoon.earth by the 14th, which is a week from Sunday.